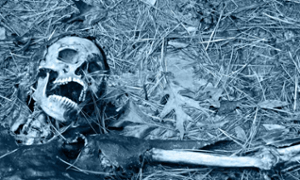 "Bodies are, after all, merely forms of energy trapped in lumps of matter waiting to be released into the Wider Universe."
I read that sentence recently in a newspaper article about how quickly the body starts to decompose almost immediately after death. After the moment of death the energy held in the body follows the natural laws of chemistry. If the undertaker didn't use their bag of tricks then it would not be possible for us to see our loved one last time, so that we can try and remember them as they were, and not what they have become. Nothing. Their essence and energy has vanished.
They live on through the memories they have created and the love they shared.
I hadn't set out to read about the decay of a human body. The headline and picture drew me in.
And yet something in the article had resonated with me in a way I needed time to digest. I suppose like that undigested food left in the body at the time of death. Of course most people don't like to think about what happens to them after the time of death.
As humans we spend most of our lives trying to ignore and avoid facing the reality that we will expire. Ernest Becker wrote the seminal book on the topic, Denial of Death.
So the point of this post comes from that realisation that my body is, after all, just a form of energy trapped in lumps of matter waiting to be released into the Wider Universe. And this is why I see depression as a denial of life. For me, when depression is severe, it feels like my mind is decomposing. By decomposing I mean that my mind is involved in a lifetime battle for survival against a killer force.
If I had could any wish granted in the world it would be to have some peace of mind. My nirvana is a place where the capital city is Peace of Mind. Mental illness makes my mind a hiding place of fear. A dark lonely place I often have to retreat into onto my own because I want to try protect family and friends from a sick brain. A decomposing mixture of thought processes that serve no other purpose but to torture.
Mental illness is a master thief. If my body is merely energy trapped in lumps of matter then it would be great to be able to enjoy the ride. I want to enjoy my life and be a good parent, husband and friend. But mental illness is an unseen cancer that is suffered in the lonely theatre of the mind.
I know our time in existence is short, a tiny grain of sand in an infinite universe. And as the article said I am waiting to be released into the Wider Universe.
We are taught about decay in the Bible, earth to earth and dust to dust. Well the universe is welcome to reclaim the chemicals that made up my head.
I often feel like a right lump of useless matter. And without the energy! Energy would allow me to not want to hide in the bed. Energy might help me find that hidden land called Peace of Mind.
That's all I want in my life. Some sustained periods with a peaceful mind. I have only had sporadic contact during my adult life.